Gatlinburg - A Small Town With a Big Backyard
Located in the rolling hills of eastern Tennessee is a small town with a population of only 4,900. You wouldn't think such a place would make for a great vacation spot. You don't generally find enticing sights and activities the whole family will enjoy in tiny towns such as this. What makes this town the exception is the 500,000-acre playground in its backyard known as the Great Smoky Mountains National Park. The town is Gatlinburg, TN and because of its location it offers exciting activities and attractions for all age groups that will ensure a vacation you'll remember for a lifetime.
Great Smoky Mountains National Park
The eight to 10 million people who visit this park annually can't be wrong. You'll soon discover why the Great Smoky Mountains National Park is such a popular area of Gatlinburg. Cabin rentals in and around the area give you ready access to some of the best hiking and wildlife you'll ever see.
With over 800 miles of trails, this hiker's paradise unlocks pathways to hours (or days) of fun, excitement and beauty. Novice hikers will enjoy the gently sloping trails with clear views that wind past powerful waterfalls. Seeking a more strenuous activity? Trek along a wooded trail to the crest of a mountain where you'll be rewarded with breathtaking views any time of year. Sunsets and sunrises receive special appreciation from hikers because they deliver a palette of amazing colors that spray vibrant reds, subtle grays and calming blues across the sky. There are some serious photo opps here!
Observing wildlife in their natural habitat offers an experience that will not soon be forgotten, especially since the park is home to so many varieties. Open areas offer the best opportunities to see white-tailed deer, raccoon, turkeys, black bear, elk and other creatures of the forest. Rather view from the comfort of your car? Meander down the Roaring Fork Motor Nature Trail with your camera ready. You're sure to catch a glimpse a black bear lazily sunning himself.
While the wonders of nature are by far the calling cards of the park, there is also lots of history to take in. Take a few moments to tour some of the nearly 80 historic structures in the park. Just imagine how our ancestors lived as you watch an actual gristmill at work or tour the homes of early settlers. You'll quickly gain a renewed appreciation for the modern conveniences of today!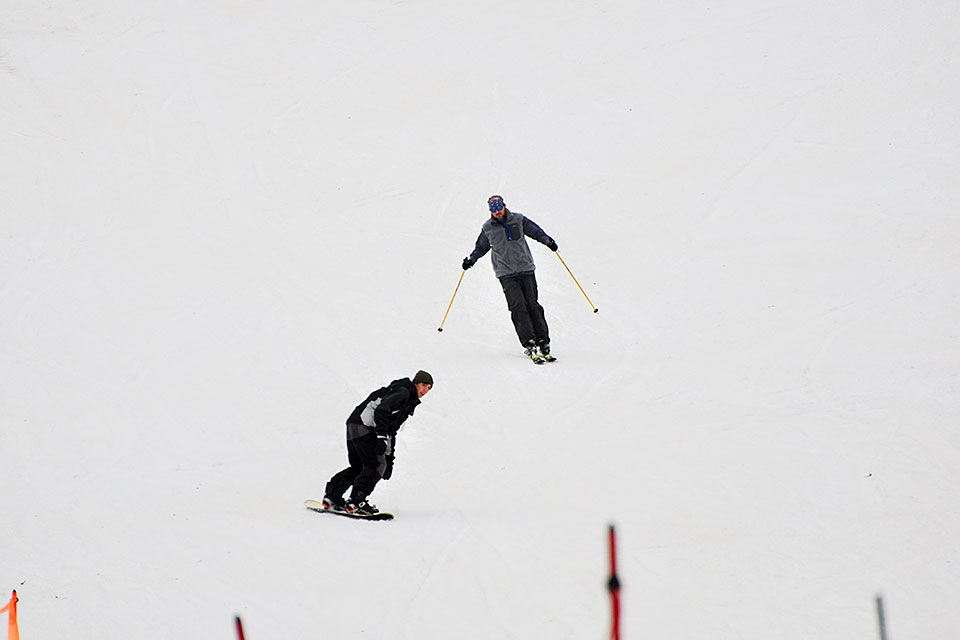 Ober Gatlinburg Ski Resort and Amusement Park
Whether you have a need for speed or prefer to enjoy the scenery while skiing, everybody loves Ober Gatlinburg. Cabin rentals and chalets are available in and around the area so you can ski till your heart's content. With eight trails geared for all skill levels, you can push an adrenaline rush with the wind burning your cheeks or slowly zigzag your way to the bottom. Two black diamond trails keep the most experienced skiers entertained while a total of four beginner and intermediate slopes give the entire family a way to enjoy the snow. Never skied before? Enroll in Ski School and hone your talent at the hand of a professional instructor.
Year round ice-skating is also available. The centerpiece of a huge enclosed mall, this rink puts ">shopping and dining right at your fingertips for the ultimate in convenience.
Ripley's Aquarium of the Smokies
What would it be like to walk under water and actually see stunning varieties of live sea life all around you? You might think it's not possible, but at Ripley's Aquarium it is! As you make your way through a tunnel that goes under the aquarium you'll find yourself engulfed by over 10,000 sea creatures of more than 350 species. Watch as mighty sharks, giant sea turtles and huge schools of playful fish swim over and around you. Have a face-to-face encounter with a colossal octopus or watch seahorses, tropical fish and even piranhas swim within reach.
The Coral Reef area of the aquarium has hundreds of multicolored fish displaying every color of the rainbow. Native to the Indo-Pacific, these species and many others participate in exciting dive shows that occur regularly in the Coral Reef.
The Shark Lagoon is filled with not only sharks, but fish of every shape and size. The 340-foot long glide path allows you to stare down a green sea turtle, giant stingray and - of course - some very large sharks! Don't get so focused you miss the rest of the sea creatures on display.
Even though Gatlinburg is small in size, it makes a very large impact on those who visit. Whether it's for a weekend or a week's stay in Gatlinburg, cabin rentals throughout the mountains put you in the center of some of Mother Nature's best work. That's probably why so many return time and time again.